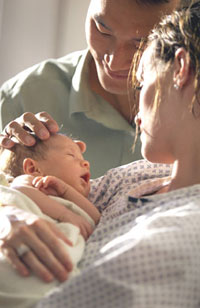 As a family physician with several hundred deliveries of infants in Pennsylvania and Missouri, Dr. Abusharr is very familiar with the care of the newborn infant. We can begin seeing your newborn immediately after birth, especially if the delivering physician requests Dr. Abusharr as the newborn's physician.
Typically, the newborn will be seen in the office ONE WEEK after birth and then again in ONE MONTH. Usually the first week's visit is to check on the mom after delivery and see if baby has returned to its birth weight. Most infants lose a few ounces until they regain all or more within the first week or two of life. No shots are given during the first week unless the baby did not receive his or her FIRST Hepatitis B vaccine while in the hospital.
The usual schedule of seeing newborns is as follows: ONE week, ONE month, TWO months, FOUR months, SIX months, EIGHT months and TWELVE months (7 visits the first year!)
We love babies!